Give 25, Get 25
The DIMBY Referral Program, also known as "Give 25, Get 25", enables loyal customers to give their friends and neighbors a $25 discount off of their first purchase from DIMBY. And, when your friend makes their first purchase, we'll issue a $25 credit to your account that you can use towards future purchases on DIMBY.
Two Rules
Friend/Neighbor must be new to DIMBY. This means that they've never signed up or otherwise held an account with us.
Friend/Neighbor must use your personalized referral link in order to receive their discount and to ensure that you receive your credit.
No Limits
There's no limit to the number of $25 credits that you can receive.
There's no limit to the number of $25 credits that you can give.
Credits never expire - they're good as long as you keep your account. 
How to Refer a Friend/Neighbor
Option 1: Forward Deals
The easiest way to refer a friend or neighbor is to simply forward deals to them. Know someone complaining about their dirty carpets? Forward the carpet cleaning deal to them when you get it. For your convenience, your personalized referral link is included at the bottom of every deal notification email. 
Option 2: Share Your Personalized Referral Link
Email, post, share, send, message...you get the idea. Share your link with anyone you think would appreciate saving money on home services. Or someone who doesn't have a lot of time and would enjoy the convenience and protection of buying services through DIMBY. You can find your personalized link under "My Account" (must be signed in).
The screenshot below shows the location of "My Referral Link"

If you don't see the link, you need to sign in
After you click the link, you'll have the option to copy your link (so you can paste it in an email, facebook post, text message, etc.). Or you can click "Email", which will generate a pre-written email for you. Then all you have to do is to enter your friend's email address.
After you click "My Referral Link", you have two options - Copy or Email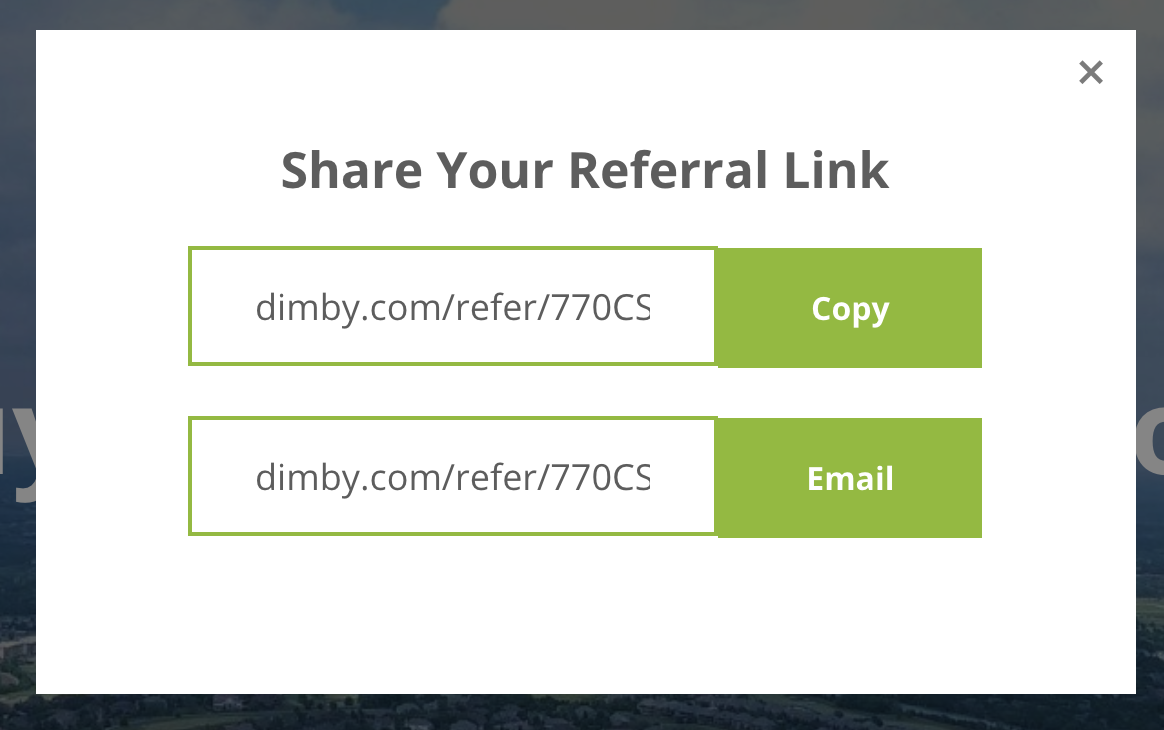 As always, if you have any questions or need assistance, don't hesitate to email us at help@dimby.com.